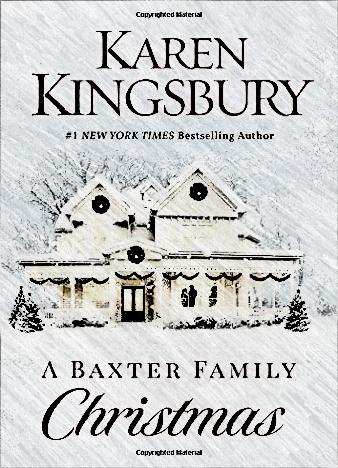 Karen Kingsbury is back, ladies and gentlemen, and she's got a brand-new bestseller to keep the fans happy. A Baxter Family Christmas brings the author's most amazing characters back, and that means this book is destined to become an international hit. This is a ground-breaking, game-changing story of love, hope and life itself. And you don't even have to be familiar with the family to enjoy this novel.
You can pick this book at your local bookstore as a standalone and rest assured that you'll have an awesome time with it. A Baxter Family Christmas will touch you and move you in ways that only the greatest tales in history can, so, get ready for a real treat! It's been 2 years since Erin, Mr. Baxter's daughter, her husband and 3 of their children died in a horrifying accident.
The man still can't get over the grief. He doesn't know how to go on without his daughter and her beautiful family, so, the only thing he can do is invite a total stranger to his home for a dinner on Christmas Eve. The woman's name is Kendra, and she's got Erin's heart beating in her chest. Yes, she's a transplant recipient, and John - Mr. Baxter - is actually hoping to get some answers, or closure from this "meeting". He's confident that this is what Erin wants.
Meanwhile, his other two kids don't really think it's a good idea and they're trying to protect Amy, their 10-year-old niece who survived the car crash two years ago. Kendra, in turn, has been struggling for a while now, trying to put her life together, and she believes that Mr. Baxter's invitation is a sign from God. A Baxter Family Christmas is a heart-warming and heart-wrenching novel about love, faith, and redemption. Definitely one of the best dramas of 2016!