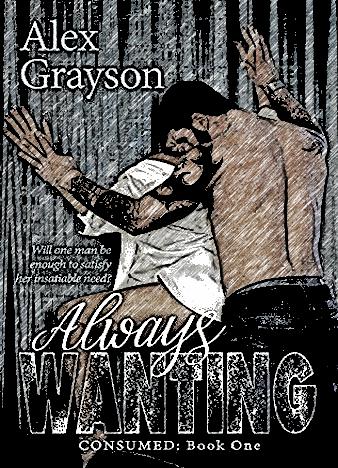 Abigail, the main character of Always Wanting, a sizzling-hot, steamy and provocative erotic novel, is a sex addict. Yep, she loves it more than anything else in this world, and, as far as she's concerned, that's not awesome - not even close. She's constantly cravin' for it, and she needs a real man to treat her properly. The thing is - if this girl doesn't have sex at least one time during the day, her mind starts to go all kinds of crazy and her body acts like it's been stabbed multiple times.
Plus, she turns into a real bitch and yells at everybody. This isn't her choice - it's just the way she is. It's a bit of a struggle, and she's doing her best not to go nuts on a daily basis. Obviously, Abigail is not into relationships, because let's face it: no man in the world would like to be her boyfriend knowing that she could be out there somewhere screwing another dude while he's working late.
She can't control her sex drive, and it's getting harder and harder to live like that. Well, at least she's learned how to embrace it. Support groups for addicts? Been there. Curbing your "appetite" with all kinds of stupid training? Done that. Nothing works. People have been calling her all kinds of bad names, and she's pretty much used to that by now.
So, Abigail doesn't even get embarrassed anymore - she just finds a dude she likes and starts doing it. However, when Colt came into her life, everything started to collapse. He made her look at herself differently, and now she wants more than just sex from him - much more. She wants a sweet, caring man by her side, a man that will rip her clothes off and grab her whenever she walks into the room. The big question is - is Colt really that guy?