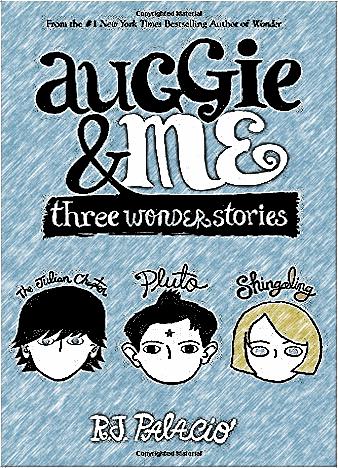 Ladies and gentlemen, please give a warm welcome to Auggie & Me, the official "extension" to Wonder, the ground-breaking award-winner by R. J. Palacio. The original story of Auggie, a regular modern-day boy with a not-so-regular face, has conquered the hearts and minds of more than 5 million (!) readers around the world, and it's about to be turned into a lovely movie for the theaters. So, what's Auggie & Me all about?
This is a very special book, and it gives you a different look at the boy's life through a different set of eyes, different angles. Until recently, the three stories were only available as eBooks, but now they're finally accessible in an awesome hardcover edition. Plus, there's an exclusive intro from R. J. Palacio where she talks about the importance of this new book for Wonder and what exactly gave her the idea to look at his world from a different angle.
You could say that these 3 stories are something of an additional sneak-peek at the boy before he started attending the school and during his very first year over there. Yes, this isn't a sequel and all the action happens before and during the events of the original story, so, if you were expecting to read about the hero's experiences after Wonder, you'll be a bit disappointed.
On the other hand, the author gives the readers the opportunity to live all the moments the eyes of Chris, the boy's oldest and best friend, Julian, the mean bully, and Charlotte, his great new friend. It's safe to say that if you had a hard time saying goodbye to Auggie after you read Wonder a couple of times, this book will be a great way to relieve some of the most important moments in the boy's life. So, grab a copy of Auggie & Me and enjoy R. J. Palacio's wonderful writing, rich, layered characters, and gripping plot.