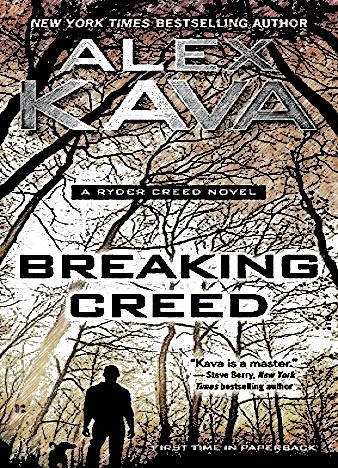 The Ryder Creed series is known for delivering that killer mix of non-stop action, suspense, mystery and drama. Breaking Creed is the first installment in the trilogy, and it's safe to say that Alex Kava created one of the best books in the genre. It comes with a gripping, nail-biting plot, a charismatic main character, and the author's brilliant trademark writing.
Creed used to be a marine, but now he's working for K9, and he's joining forces with Maggie, an agent with the Bureau that the fans came to love and cherish. Ryder and his exceptionally trained dogs have been creating tons of international buzz. They've successfully stopped numerous major operations in Atlanta. Searching a fishing boat is like child's play for the K9 operative and his trusty hounds, so, they think it's just another walk in the park.
However, when they find a hidden compartment on the vessel, things start to go sideways - rapidly. So, what could the Colombian crime lords be moving around? Drugs? No, this time around, the cartel is shipping humans! Next, Ryder helps a 14-year-old girlie, one of the drug mules, disappear. She kinda reminded him of his little sis who vanished into thin air 1, 5 decades ago.
At the same time, Maggie, the FBI agent, is working on a brand-new case that has to do with an unexplained series of murders. The poor souls are tormented, murdered and tossed into the nearest river. She thinks a first-grade killer is operating in the city, but her chief isn't really getting the whole picture. Soon, she discovers a kill list, and Ryder's name is on it. Is it already too late, or maybe she can still save the K9 champ?