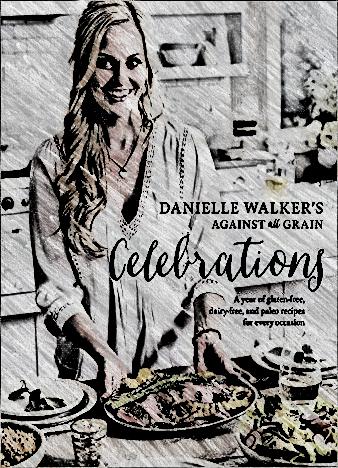 Danielle Walker, an internationally-acclaimed cook and the recipient of several awards, has two bestsellers in her portfolio, so, this brand-new cookbook is like the best of the two worlds. Danielle Walker's Against All Grain Celebrations comes with as much as 125 delicious recipes for the fans of healthy eating. All the ingredients are grain-, dairy- and gluten-free, which means you've got just the right comfort food for your family, friends, special occasions and celebrations.
When we switch to a new, exciting diet to be young, healthy and happy, we usually start to worry about the holidays and parties, especially the ones that come with certain types of foods and meals. We fear that our new recipes won't be a match for the good-old ones; besides, what will the guests think about it? Don't you worry, ladies and gentlemen, because Danielle knows exactly how you feel!
She had been struggling with an overwhelming disease that forced her to say "No" to a lot of delicious foods that she came to know and love. However, after fighting with it for a very long time, this brave woman found a way to bring joy back into home cooking, and that's when she came up with this book. It's a brilliant collection of recipes for 12 parties/events to keep you busy and happy for the whole year.
The line-up is pretty impressive, and you'll find a bunch of delicious birthday cakes, finger-foods that go great with a baby/bridal shower, and new versions of the good-old classics like barbecue. Obviously, there a big chapter dedicated to Thanksgiving that includes turkey, beans, stuffing, a chapter for Christmas, New Year's Eve, et cetera, et cetera. At the end of the day, Danielle Walker's Against All Grain Celebrations is the perfect cookbook if you wanna take care of your body and eat healthy, delicious foods.