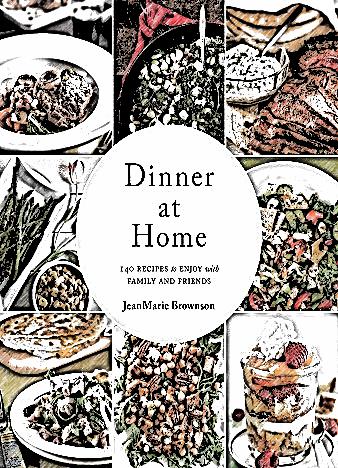 140 Recipes to Enjoy with Family and Friends is a wonderful cookbook for every household and comes with delicious and healthy recipes for every day of the week and time of the year. JeanMarie Brownson, a gifted cook, has always been one of the most popular chefs and food writers for the last decade or so. She's been writing about her cooking adventures in a series of columns, and this book is the ultimate collection of the best recipes, tips, tricks and guidelines for the home cooks to enjoy.
She single-handedly picked every single one of the 140 recipes, which means customer satisfaction is guaranteed! Dinner at Home is a beautifully written and "action-packed" cookbook that comes with delicious, easy-to-make recipes, amazing, super-detailed photographs, and tons of useful recommendations and guides.
Furthermore, you'll find that Dinner at Home is cleverly organized and includes chapters on holiday meals, snacks for wild parties, breakfasts, dinners, suppers and everything else in between. And finally, seasonal menus like Sunday Brunch make this book a must-have for you - the cooking fans. The recipes from Dinner at Home are backed by many years of "harsh testing", so, you won't ever be disappointed with something that looks good but turns out to be average.
If you love cooking and gathering your whole family around a nice, delicious table, then Dinner at Home should definitely be in your list of the best cookbooks ever. There's nothing like making an amazing meal and enjoying it with your closest friends and family members while talking about the weather, the latest trends, politics, sports, and other stuff.