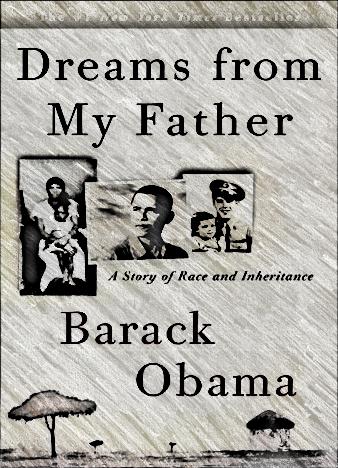 In this lyrical, unsentimental, and compelling memoir, the son of a black African father and a white American mother searches for a workable meaning to his life as a black American. It begins in New York, where Barack Obama learns that his father—a figure he knows more as a myth than as a man—has been killed in a car accident. This sudden death inspires an emotional odyssey—first to a small town in Kansas, from which he retraces the migration of his mother's family to Hawaii, and then to Kenya, where he meets the African side of his family, confronts the bitter truth of his father's life, and at last reconciles his divided inheritance.
Pictured in lefthand photograph on cover: Habiba Akumu Hussein and Barack Obama, Sr. (President Obama's paternal grandmother and his father as a young boy). Pictured in righthand photograph on cover: Stanley Dunham and Ann Dunham (President Obama's maternal grandfather and his mother as a young girl).
U.S. Senate hopeful Barack Obama has an inspiring story to share, and yet he doesn't simply rest on his laurels in this critical evaluation of his life and in his continuing search for himself as a black American. He wrote "Dreams From My Father: A Story of Race and Inheritance" almost ten years ago, but his stock has obviously surged since his star-making speech at the Democratic National Convention last month, perhaps to the chagrin of Hillary Clinton...unless she is dreaming of a Clinton-Obama ticket in 2008! Growing up mulatto in Hawaii and Indonesia, Obama discusses trying to come to grips with his racial identity through a period of rebellion that included drug use, becoming a community activist in Chicago and traveling to Kenya to understand his father's past. It is in Kenya where he discovers a nation with forty different tribes, each of them saddled with stereotypes of the others. It is also in Kenya where he recognizes the dichotomy that has been his lifelong existence between the graves of his father and his grandfather. His description of this defining moment is worthy of a passage in Alex Haley's "Roots".