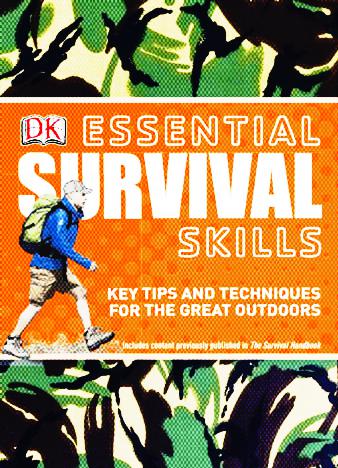 Filled with color illustrations, graphs and charts
Fully indexed
Step by step illustrations
No nonsense advice on planning expeditions, routes or just setting up camp
Learn to make fire, procure water, build shelters and more
The DK book, Essential Survival Skills - Key Tips For The Great Outdoors is perfect for all ages and skill levels, the Essential Skills series is at-a-glance reference packed with instant- access, easy-to-understand tips to help you improve your game, your technique, and your creativity.
Essential Survival Skills is a step-by-step guide to surviving and thriving in the wilderness. Whether you are hiking or camping, learn everything you need to know to build a shelter, apply first aid, and treat various types of insect bites. The book progresses from the very basics for beginners, through all the elements essential to becoming adept at wilderness survival.
This is a good, no-nonsense book for beginners who have never been in the wilderness. It covers all the basic techniques and is more than well illustrated and constructed. Edited By - DK Editors - Colin Towell.