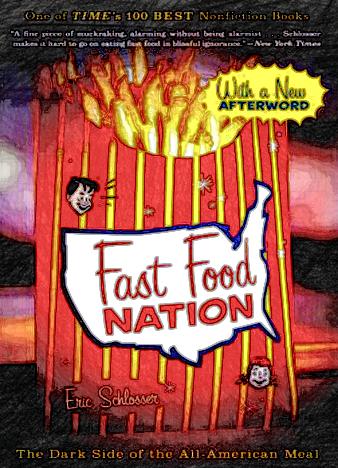 In 2001, Fast Food Nation was published to critical acclaim and became an international bestseller. Eric Schlosser's exposé revealed how the fast food industry has altered the landscape of America, widened the gap between rich and poor, fueled an epidemic of obesity, and transformed food production throughout the world. The book changed the way millions of people think about what they eat and helped to launch today's food movement.
In a new afterword for this edition, Schlosser discusses the growing interest in local and organic food, the continued exploitation of poor workers by the food industry, and the need to ensure that every American has access to good, healthy, affordable food. Fast Food Nation is as relevant today as it was a decade ago. The book inspires readers to look beneath the surface of our food system, consider its impact on society and, most of all, think for themselves.
Clearly the issues of food safety are the most terrifying aspect of this book. I was left chilled by how particularly critical it is to protect my children from consuming fast food. However, one is left with an incredible sense of outrage, and impotence, about the recidivism of American corporate practices in terms of minimal fair labor practices and its lack of fundamental social conscience regarding consumer safety. It is too reminiscent of Sinclair's seminal work and ironically the impact of Schlosser will probably be the same -- to raise concern about food quality alone rather than the egregious exploitation of those in fast food production and service. It leaves you increasingly cynical about the corporate lack of business ethics, and failure of politicians to act as guardians of the common good.