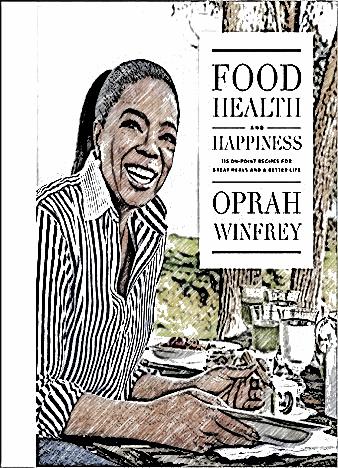 Everybody knows who Oprah Winfrey is. As far as inspiring, uplifting and motivating black women go, she's the #1 person in the whole wide world right now. And, she's more than happy to open up to her loyal fans about the ups and downs of her relationship with food. On one side, it's delightful, and a well-cooked meal is something that she's always appreciated. On the other side, it also comes with heaps of problems, including obesity and fatigue.
So, in Food, Health, and Happiness, a brilliant cookbook, the iconic lady shares her list of tried-and-true recipes that allowed her to find the perfect balance between delicious and healthy. In the beginning, it might sound like a lot of work to you, but first, the book is cleverly written, and you won't have any problems accessing the various parts of it.
Second, all it takes to "transform" yourself from a "chaotic eater" to a healthy person are a couple of hard, tough months. These recipes/dishes were made with Oprah's favorite chefs from all over the world. Furthermore, the book comes with personal notes and memories from the author, so, if you've been looking for a behind-the-scenes access into the kitchen (and life) of one of the most prominent celebrities in America, grab a copy of this book!
These recipes are both tasty-as-hell and healthy. Plus, they are easy to prepare, and that means you won't need a degree to cook 'em. The recipes are divided into all kinds of categories, starting with simple and all the way up to culinary masterpieces. Winfrey makes these meals at home on a daily basis and shares them with her fam/relatives/friends. And now you can too!