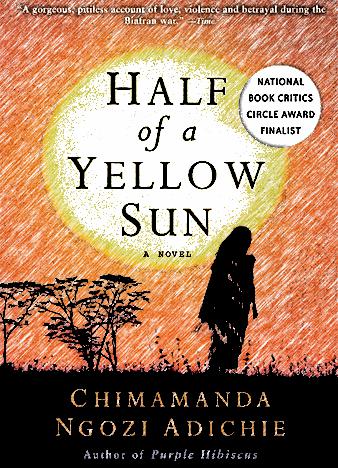 With effortless grace, celebrated author Chimamanda Ngozi Adichie illuminates a seminal moment in modern African history: Biafra's impassioned struggle to establish an independent republic in southeastern Nigeria during the late 1960s.
We experience this tumultuous decade alongside five unforgettable characters: Ugwu, a thirteen-year-old houseboy who works for Odenigbo, a university professor full of revolutionary zeal; Olanna, the professor's beautiful young mistress who has abandoned her life in Lagos for a dusty town and her lover's charm; and Richard, a shy young Englishman infatuated with Olanna's willful twin sister Kainene. Half of a Yellow Sun is a tremendously evocative novel of the promise, hope, and disappointment of the Biafran war.
Chimamanda Ngozi Adichie's characters are very compelling, although they do things that can be hard to understand and seem completely out of character. It was fascinating to see the "modern" world through the eyes of loyal houseboy Ugwu, and the way the two sisters, Olanna and Kainene manage to love and support each other even after serious betrayals of trust.
This story is riveting, and also very visceral and upsetting. There is so much stuff in here- family dynamics, love and betrayaI, tribalism, colonialism and its after effects, the choices people make out of desperation and hope, and just how complicated relationships are.