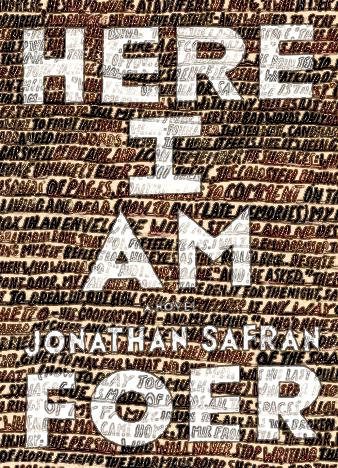 Here I Am is a fundamental novel about the most important things in life - history, family, faith, believing in the Greater Good and doing the right thing. We, as humans, have a lot of obligations and responsibilities to take care of, and how we "perform" defines us, shapes our personalities. We are husbands, brothers, fathers, sons, mothers, wives, sisters and children. So, how do we find the time and space to look at ourselves and understand our own desires and goals, how do we claim our identities?
That's exactly what Mr. Jonathan Safran Foer is trying to figure out in Here I Am, a deeply personal, heart-wrenching, revealingly open and profound book. It took the author 11 full years to finish it, but it's all well worth it. There are a lot of writers who love to speculate on the same subjects, but rarely do they hit the bull's eye, but Foer always does.
Here I Am focuses on a regular family that's on the brink of devastation in a moment of crisis. The story unfolds over 4 tough weeks that define Jacob, Julia, and their kids. The book is highly emotional, touching and challenging in the most wonderful way. Just like so many years before, Jonathan Safran Foer talks to the readers as if they were his friends and/or family. Here I Am is hard-hitting, provocative, intimate and entertaining.
It's safe to say that Foer is one of the greatest writers of our time, and Here I Am is his finest work to date. Only he can mix funny, hilarious moments with pain, regret, and distraction without making it feel like a complete mess. Every single phrase, every single word has its own meaning, and that's exactly how the author manages to connect with the readers on a whole another level. Here I Am is epic, brilliant and refreshing - just the perfect combination!