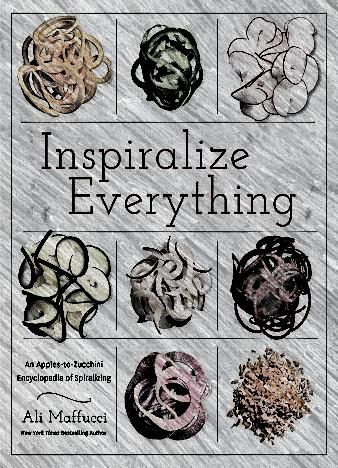 The modern-day home cooks are in desperate need of a book that will help them to substitute high-carb/calorie ingredients in their favorite meals with something healthy and clean - vegan, gluten-free, et cetera, et cetera. Junk food is one of the biggest challenges of the 21st century, but, thankfully, we've got Ali Maffucci to guide us into the world of proper eating. Inspiralize Everything is a one-of-a-kind book that will rock your world!
At first, it was just a blog that became popular in the blink of an eye, and now, in 2016, the official cookbook is available, and it's an instant bestseller. So, without a doubt, this book is the ultimate manual for "spiralizing" your ever dish. It's cleverly organized - alphabetically - which means you can start cooking a delicious meal with whatever ingredients you've got in your kitchen, as opposed to having to go shopping for "proper elements".
At the same time, it would be a good idea to visit the farmer's market regularly, as that's usually where you can get the healthiest foods for your amazing new meals. The author talks about 20+ fruits and veggies, meticulously describing their nutritional values, health benefits, cooking techniques, and more. Each recipe in Inspiralize Everything was carefully created to be not only delicious and healthy but also pretty easy to cook, so, even the amateur cooks will be able to enjoy them.
Furthermore, the book comes with tons of suggestions on how you can switch a certain vegetable/fruit with another one and a detailed guide on how to customize your diet. All in all, Inspiralize Everything is a fantastic cookbook that's got it all - healthy, easy-to-make meals, great suggestions on how to perfect your diet, step-by-step guides on every single recipe, and so much more!