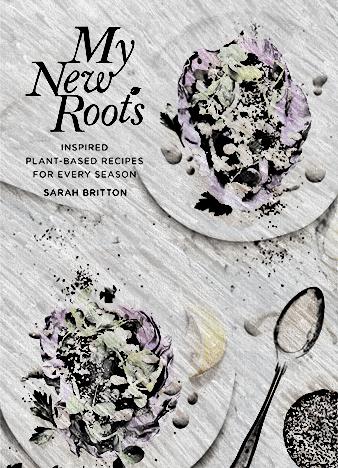 At long last, Sarah Britton, called the "queen bee of the health blogs" by Bon Appétit, reveals 100 gorgeous, all-new plant-based recipes in her debut cookbook, inspired by her wildly popular blog.

Every month, half a million readers—vegetarians, vegans, paleo followers, and gluten-free gourmets alike—flock to Sarah's adaptable and accessible recipes that make powerfully healthy ingredients simply irresistible. My New Roots is the ultimate guide to revitalizing one's health and palate, one delicious recipe at a time: no fad diets or gimmicks here. Whether readers are newcomers to natural foods or are already devotees, they will discover how easy it is to eat healthfully and happily when whole foods and plants are at the center of every plate.
The book is divided into five sections: spring, early summer, late summer, autumn, and winter. I thought that was particularly clever of the author; a plant-based cookbook is going to be very seasonal, but I haven't run across any other arranged in such a manner. Within each section, the recipes are grouped into four categories: "mornings," "small measures," "mains," and "sweets." Here they are:
SPRING (20 recipes) – (Mornings) Strawberry coconut milkshake, Carrot rhubarb muffins, Freekeh pancakes, Strawberry chia jam, Dark chocolate cherry oats; (Small measures) Olive caraway bread, Cabbage wraps with couscous, Pickled turnips, Turnip and radish salad, Savory spring hand pies, Dandelion greens with poached radishes; (Mains) Oyster mushroom bisque, Quinoa risotto, Black lentil salad, Wild rice with pistachios and vegetables, Socca with asparagus/dill/feta; and (Sweets) Macaroons, Apricot rhubarb clafoutis, Strawberry chamomile frozen yogurt, Sunflower sesame brittle.