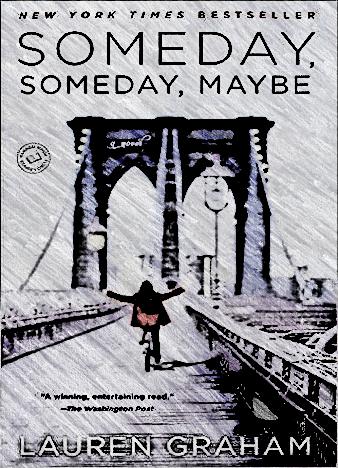 Lauren Graham, the lovely star of several wildly popular TV shows, is also quite a gifted writer. This is her debut novel, and it's captivating, witty and super fun. This is a story about a talented young lady who wants to be an actress. She's lost in NY, trying to make a breakthrough and survive the crazy life in the world's greatest city. It's 1995, the end of the 20th century is near.
It's been 2.5 years since Franny, the main character of the book, arrived in New York. She has only 6 months left of the self-set 3-year deadline. Yes, she was more than confident that she'll make it in the industry before her time runs out. However, despite the fact that she's been working really hard, all she got was a small part in a stupid commercial for wacky holiday sweaters. Oh, and she's got a part-time gig at a trashy club - waiting tables.
She's living with two mates - Jane, a wonderful girl, and Dan, an ambitious sci-fi writer. Both her friends support her, but she's dreaming of a huge fan-base. The whole world keeps telling her that a girl like herself needs a backup plan, and she's actually got one. She could, at any moment, move back and settle down with her now-ex boyfriend, but she's not ready to turn around yet: she still has the fire burning deep inside, and that's the only thing that keeps her going.
There's about to be a showcase for her class, and Franny is really hoping to get noticed by the folks who could take her to the next level. James, the big star of her class and a natural stud, is starting to flirt with her, but she can't think about anything else but work, because her wallet is almost empty her agent is not answering the phone, and everything is falling apart...But she still believes she'll prevail.