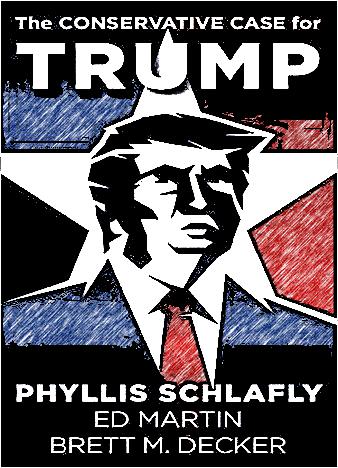 Phyllis Schlafly, a legendary writer, philanthropist and an advocate for the truth, passed away recently, just before her final book saw the light of day. Yes, The Conservative Case for Trump is her last words of wisdom for the American people, and we better listen closely. This is a call to action, a call to stop believing in whatever the establishment is saying and to show support for Mr. Donald Trump, the GOP candidate and the one and only man that can make this country great again. The conservative folks need to set their differences aside and do whatever's necessary to ensure America's survival in the future.
Make no mistake - the stakes are higher than ever - and, while the majority of the conservatives find The Donald ridiculous and maybe even dangerous, the late author's hope was to change their minds and turn them towards the truth. Phyllis Schlafly spent more than 70 years staying true to the Republicans and their ideas, and now she's asking everybody to vote for Trump and to make him the next President of the United States.
This woman is a legend: she sold more copies of her books and received more awards than we could all count, and now she's doing her best to convince the conservatives that Donald Trump is the man to cheer for this year and that every single vote counts. Schlafly writes about the real person that she met with and talked to, not some mystical figure. And, in a way, Donald Trump is more conservative than we all could ever think. He's ready to rule the oval office and take care of this country's huge problems, one at a time.
Trump is probably the only candidate who can fix whatever's going on with the immigration policy, heal the economy and defend our rights, our freedom of speech and will. Furthermore, he can handle foreign policy better than any other candidate. So, there you have it - The Conservative Case for Trump. If you want to learn the real truth about the man and why he should be the next President of America, Phyllis Schlafly's arguments might just make you a believer!