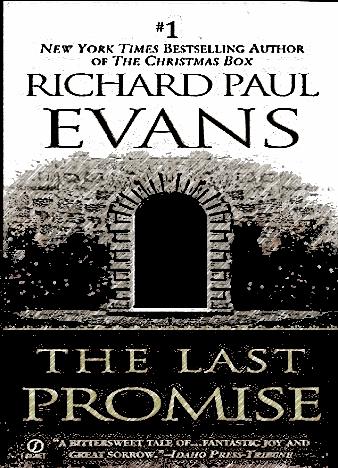 Richard Evans comes through with a breath-taking story of love, hope and life itself. Mr. Evans is one of the greatest storytellers in history, and the critics are calling him the king of women's fiction. He's got a mighty line-up of bestsellers behind his back, and The Last Promise is definitely one of his best works to date. This is a moving, touching and thought-provoking novel about love - the triumph and devastation that come with it.
Decades ago, a sweet, innocent young lady from Utah, was enchanted by a handsome man from Italy. He pretty much swept her off her feet and made the girl believe in eternal love. The two got married, and together they created a beautiful family. Today, the girlie is a grown woman, a mother, and a wife. Ellen is a beautiful woman in her thirties, and she's a gifted artist.
Originally, she came to this country to study, but, when she met him - Maurizio - she fell in love and decided to stay. The couple lives in Italy, but everything is not going the way it's supposed to: the man is constantly traveling, and he's flirting with pretty much every woman he lays eyes on. Ellen is forced to stay at home all the time and take care of their asthmatic son.
She's lonely, frustrated and confused, as her husband's cheating is driving her crazy. The tension keeps rising, and Ellen even considers moving back to the US and taking Alessio - the kid - with her. However, destiny has something huge in stores for her: big love is coming towards her once again, and she's about to lose her head over it. Ross is an American, a fan of modern art, and he steals her breath away the moment they meet. Now, Ellen will have to make an impossible choice between her own happiness and her son...