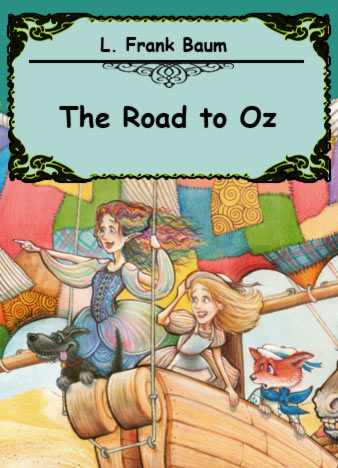 This is the 5th book in the now-legendary Oz series. The novel was released in 1909 and follows Dorothy's 4th arrival in the magical Land and her new adventures. One fine day, while the girl is hanging around at the Gale farm with her lovely dog, the Shaggy Man visits. He's pretty friendly and kind, yet a bit senile. This optimistic, do-first-think-later hobo asks the kid how to get to Butterfield.
Dorothy offers to lead him there, and together they set the course towards the town. Soon, the road magically splits into 7 different directions. The team takes the 7th one and end up "jumping" into a whole another dimension. Upon arrival, the heroes meet Button-Bright, a good-looking, noble and rich little fella who has a bad habit of getting lost all the time.
Then, they come across Polychrome, a most fascinating and beautiful girl, the Rainbow's own child. She's having a hard time adjusting to life on Earth and tells the trio that she simply fell off from the sky and is now desperately trying to find her way back home. Later, the original "gang", along with the magical girl and the wealthy kiddo visit Foxville, quite a whimsical town that's inhabited by some mesmerizing foxes.
Land of Oz works:
1. The Wonderful Wizard of Oz (1900)
2. The Marvelous Land of Oz (1904)
3. Ozma of Oz (1907)
4. Dorothy and the Wizard in Oz (1908)
5. The Road to Oz (1909)
6. The Emerald City of Oz (1910)
7. The Patchwork Girl of Oz (1913)
8. Tik-Tok of Oz (1914)
9. The Scarecrow of Oz (1915)
10. Rinkitink in Oz (1916)
11. The Lost Princess of Oz (1917)
12. The Tin Woodman of Oz (1918)
13. The Magic of Oz (1919, posthumously published)
14. Glinda of Oz (1920, posthumously published)
Princess Ozma's birthday is just around the corner, and that means that Dorothy has to make it out of the magical land ASAP, otherwise she'll miss the grandiose party! Finally, she and her valiant team reach the hazardous Deadly Desert. The sand there turns any living soul into dust, so, they come up with a "boat" and sail all the way to Oz. The Road to Oz is full of adventures, funny moments, unique characters and comes with a pretty amazing plot.