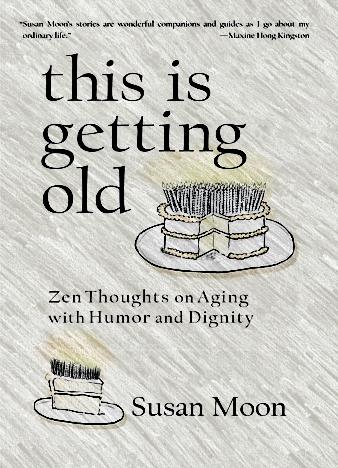 In this intimate and funny collection of essays on the sometimes confusing, sometimes poignant, sometimes hilarious condition of being a woman over sixty, Susan Moon keeps her sense of humor and she keeps her reader fully engaged.
Among the pieces she has included  here are an essay on the gratitude she feels for her weakening bones; observations on finding herself both an orphan and a matriarch following the death of her mother; musings on her tendency to regret the past; thoughts on how not to be afraid of loneliness; appreciation for the inner tomboy; and celebratory advice on how to regard "senior moments" as opportunities to be in the here and now.
Susan Moon compares her 60s "Consciousness-raising group" to her current Crones Group. The first was to resist and expose sexism the second to accept and realize "This is how it is" and ask, "How can I work with it. The women even found themselves celebrating old age.
Moon says it annoys her when people say, "Even if you're old you can still be young at heart!" for it implies old is bad and young is good. Her heart-warming stories in "This is Getting Old: Zen Thoughts on Aging with Humor and Dignity" artfully demonstrate the beauty and wonder of practicing loving for a long time and being "old at heart."