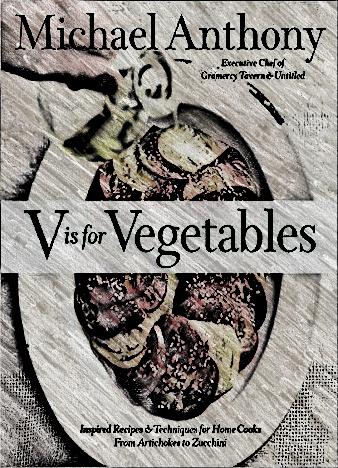 V Is for Vegetables is an award-winning cookbook for the fans of healthy, nutritious and delicious veggies. The majority of big-time critics called Michael Anthony's brand-new book one of the best ones of the year, which automatically means it's a sure thing! Besides, Mr. Anthony is probably the most loved and respected professional chef in the United States, and he's back with over 150 simple-yet-awesome recipes for stress-free and hassle-free vegetable cooking in your kitchen. Oh, and everything looks and smells great, too!
The man firmly believes that a real cook has two "tasks": first, he has to come up with some delicious flavors, and second, he needs to make sure that his meals are super-healthy. If he manages to do that, you can call him a big pro.
By the way, the book is not all about the vegetarian recipes and also packs a good bunch of non-vegetarian options. However, there is a huge focus on the vegetables, simply because Michael loves to cook veggies and enjoy them with the fans from all around the world. He shows the readers that cooking veggies can and should be fun, and you don't have to buy exotic, expensive ingredients to make his recipes work - they're all based on regular vegetables that are available in every market in America.
V Is for Vegetables is accessible, affordable, beautifully written and comes with a staggering amount of delicious recipes. Plus, you'll find charming photographs, detailed descriptions, and tons of really useful tips on how to make a certain technique work. So, if you're a fan of vegetables and are craving for some world-class recipes to put to good use in your kitchen, V Is for Vegetables is a must-have!