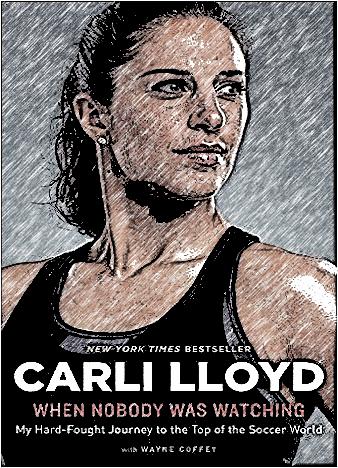 Carli Lloyd is one of the greatest players on the American Women's Soccer Team, and this book is an inspiring, touching, honest and revealing story of her rise to success. When Nobody Was Watching is a deep, charming memoir, one that will leave your speechless. There's a saying in sports that if a certain player trains when there's nobody watching him or her, that player has the perfect opportunity to do something extraordinary when the entire human race is watching. And Carli did exactly that - superhuman stuff: she scored a hat-trick in the very first 16 minutes of the WC final and topped that with a 50-yard strike from midfield, something that nobody could do ever before.
However, what the cheering fans never knew is that she spent years on practicing that monumental shot on an empty field in NJ while nobody was watching. Lloyd, the team's leader and midfielder, wrote history when she made that hat-trick happen. Eventually, the team won their first FIFA cup in more than 1.5 decades, and the whole world will remember her exceptional performance that day.
At the same time, the world champ reveals in this book that back in 2003 she was seriously considering quitting. Her soccer career wasn't doing so great, and she almost convinced herself that it was over. But then she met Galanis, a man who saw the raw, uncut talent in her and helped Carli become the greatest one at it. She had the strength, the dedication and that fire in her eyes, and that's exactly what made the trainer want to work with her.
Now, while she was ready to rumble, she was pretty weak mentally and she lacked character, not to mention her physical condition wasn't perfect. Still, despite all the odds, she became the #1 player in the history of Women's Soccer. When Nobody Was Watching is a wonderful book for all the struggling folks who need someone to believe in them and tell them to keep going and to never lose heart.