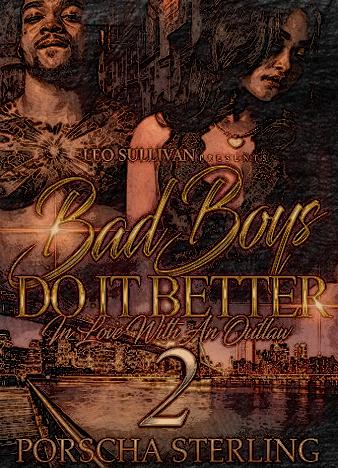 For some reason, the ladies are convinced that bad boys do it way better than the good ones. Is it really true, or maybe it's just a myth? Janelle is about to find out in Porscha Sterling's heart-pounding novel! Luke was pretty much the last guy she thought she could fall for, but now that she's got him, letting go is not an option for her anymore.
True, there are some things that the lady hates about him, including the huge-ass ego, rude-slash-primal behavior and the gangsta ways that he refuses to drop, but, at the same time, she loves him for all those things and doesn't want to change anything. And, it seems like Luke, the ghetto thugger, a hustla, is also head over heels for her. For him, Janelle is one of those good, "domestic" girls that you just play around with and dump, but, for some reason, he can't get her out of his head. Is it love? Is the rough-tough grinder slowly falling for this cute girlie?
However, when she confesses that she loves him, all hell breaks loose, threatening the earth-scotching relationship. Concurrently, Carmella can't go on without Cree, but she's got huge problems in California that keep her busy 24/7. And when an opportunity to go back to NY opens up, she hops on it without even giving a thought to the consequences of her decision.
Cree is set on never letting her go away from him and everything goes exactly the way he wants, right up until the moment she stumbles upon something that could potentially destroy their love. All that she can do right now is hope and pray that the man of her life will try and see things her way - at least for this one time. Sidney is falling for Yolo - again - and now it's all serious. But, his ex is angry with both of 'em. Bad Boys Do It Better 2 is a fancy urban romance with twists, turns, secrets, betrayals and a wonderful cast of characters.