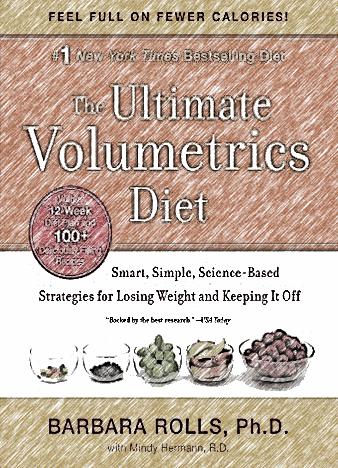 Based on Volumetrics, named the Most Effective Diet of 2011 by The Daily Beast, The Ultimate Volumetrics Diet by Dr.
Barbara Rolls with Mindy Hermann offers smart, simple, science-based strategies for losing weight and keeping it off.  In this beautiful full-color combination diet plan and cookbook, the author of the #1 New York Times bestseller Volumetrics provides new findings, user-friendly tools, and dozens of fabulous and filling recipes to help you lose weight without feeling hungry or unsatisfied.
Lose weight and keep it off while managing your hunger: That's the simple and effective promise of Volumetrics, the #1 New York Times bestselling diet and lifestyle plan that for more than a decade has shown readers how to feel full on fewer calories. In The Ultimate Volumetrics Diet, Dr. Barbara Rolls expands on her time-tested message with new findings, recipes, and user-friendly tools. Dr. Rolls's twelve-week program supports readers step-by-step as they develop new habits to help them lose weight and keep it off—and her 105 delicious recipes, divided into thirty-five food categories, provide a foundation for personalizing and preparing everything from breakfast favorites to main courses to desserts.